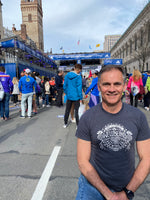 What are three things you want the world to know about Rich Loud?
If I say I'm going to do something, I do it. It might be as mundane as helping someone move, or it might be as epic as running 100 miles. If I say I will, then I will.

Despite my last name, I'm really kind of shy and quiet. I've had a lot of interesting experiences and done many fun, exciting things, but I rarely talk about them unless it naturally comes up in conversation. I even surprise my family from time to time. 

I'm having more fun drinking, since I quit drinking!
What is your favorite part about being a WellBeing Brand Ambassador? How do you use this opportunity to #RaiseWellBeing?
That's easy! My favorite part is the opportunity to share the beers with people, and help them learn more about WellBeing. Being a Brand Ambassador gives me access that most people don't have. Sometimes people are looking for information about the beers and I can find the answer and share it with them. It's also a lot of fun showing up at a race, pulling out a cooler full of Victory Wheat to hand out, then watching people's faces when they realize it really tastes like beer, because it is beer.  
I'm pretty open on social media about my alcohol free adventure and I think people are starting to look at it for ideas, recommendations, and maybe some inspiration. Look at my Instagram. It's mostly NA beer and cocktails, marathons and ultramarathons, and the occasional dog. Being a WellBeing Brand Ambassador allows me to highlight not only the beers, but also what the brand stands for, which is of course to #RaiseWellBeing. 

But being an ambassador goes beyond Instagram posts. It lends credibility when I talk to restaurant and bar managers about adding non-alcoholic offerings, so the customers who aren't drinking can have a craft beer. I love it when a bartender mentions inclusivity to me. I talk to event organizers about having at least one nonalcoholic beer at their concert, festival, or race so that non-drinking participants can have an option beyond just water or soft drinks. It's all part of raising the tide for everyone. It's all part of Raising WellBeing.
What did life look like before you were booze free? What was your point of entry into the nonalcoholic world? 
On the outside, I'm sure I looked like I had my act together. I had a great career at a company I'd been with for over thirty years. I had a great wife and two great kids who were excelling in college and grad school. I was physically fit, had run twenty-six marathons, and eight ultramarathons including two 100 milers. Everything was great, right?
What most people didn't see was that I also drank almost every night. You know how it goes, one drink makes you feel good, two will make you feel better, three must be great.  Yeh, not really. I'd have a drink while cooking dinner, another with dinner, and usually, one after that. I often say, drinking is a slippery slope, and it gets steeper the longer you stay on it. I realized I needed to get off the slope rather than keep trying to claw my way back up. So, I had a talk with my wife and kids, and committed to them and to myself that I would stop.  That talk was on April 5, 2020, and I haven't had an alcoholic drink since.
As for my point of entry into the nonalcoholic world, my gateway was a PBR NA.  For my first alcohol free month, I drank water, kombucha, and seltzer with tart cherry juice. I avoided going down the beer aisle at the grocery store for obvious reasons.  One day, though, I peeked around the corner at the NA section with O'Doul's, Heineken 0.0, and a couple of others, and a white 12-pack of PBR NA peeked back. Why not give it a try? I'll taste one and if it's terrible or makes me want regular beer, I'll throw the rest of the 12-pack away. 
Under the dubious observation of my wife, I opened a can, took a sip and it was like magic.  Scary magic at first because it tasted good and felt even better. As I finished the can, it hit me. In the past, at this point my brain would be saying, "One beer made you feel this good, two will make you feel better." But not this time! It did feel really good, but I had absolutely no desire for another. That's when I realized it was the beer that I liked and the alcohol in beer was the drawback.
From there I learned about craft NA beer. I joined the NA Beer Facebook Group, which led to more NA beers, more Facebook groups, NA spirits, cocktails, and wine. A whole new world opened up to me.
When did you first try WellBeing beers, and how do they play a role in your life currently

?
WellBeing Heavenly Body was the first nonalcoholic craft beer I tasted. That came a little over a month after I began my alcohol free adventure and I was blown away. Hellraiser came right on the heels of that, and I knew I was onto something amazing.  I knew that WellBeing beers were going to be key to me remaining alcohol free. 
You could say that I've been an ambassador for WellBeing beers even before the ambassador program. I'm not shy about telling people how good they are, and I couldn't begin to guess how many I've given away for people to try. I always have at least one style of WellBeing beer in my fridge; usually three or four so it's easy to hand a few out from time to time. Victory Wheat is my go-to, post run rehydration beer.  It's delicious and goes down so easy, it's like it was brewed specifically for me. Intentional IPA is my favorite "sit back and relax" beer.  I love the hops balanced with the medium bodied malty backbone. And that beautiful clear light amber color is perfect.
What makes WellBeing Brewing stand out among all the incredible NA options available? 
Two things… The Beer and the Brand. I love how WellBeing has just four year-round beers.  They're four very different styles that are done well and they're consistent. It's usually easy to find one of them that fits anyone's tastes. Victory Wheat is a perfect entry point for anyone wanting to try NA beer, but there's Intentional IPA, and Hellraiser for people looking for a bolder character, and Heavenly Body for anyone who leans more toward the golden ale end of the spectrum. Then you add in the seasonals, and special releases and you've got a good dose of excitement throughout the year.
I also love the fact that, as a brand, Wellbeing is very socially minded and promotes the wellbeing of the community. It's not just about selling beer or offering nonalcoholic alternatives. Just read the label of this year's special release, Wandering Islands. It's all about extending a helping hand to workers in the food and beverage service sector. It's literally all over the label, right down to the QR code that will take you to a website with links to all sorts of resources.
You recently completed the Vermont 100, what an accomplishment! How did you start running, and how do you train mentally and physically for epic runs like this and the Boston Marathon?
Thank you! The Vermont 100 is an experience of a lifetime. So much so that I've done it three times and yes, I'll probably do it a few more times. I think it's the only ultramarathon around where runners and horses race at the same time on pretty much the same course. It's something you have to experience to appreciate.
Although I ran track from the time I was eleven until I graduated from high school, I was a sprinter and hated anything longer than 400 meters. It wasn't until I was 44 when someone 14 years younger challenged me to run a half marathon with him that I started running like I do now. That was in 2009 and I'm still going.
My personal fitness goal is to always be fit enough to run a marathon tomorrow. That means I'm almost always training. I do take some downtime after long and hard races, but I also always have my next race on the calendar, even if it's six months away. It's important for me mentally, to have a goal to train for. 
The physical part of training is pretty obvious, but the mental part is all about showing up and following the plan. Even when I'm tired, or sore, or just don't feel like it, I show up and do the workout. If the distances are further than I want to run, even though I may entertain the thought of going shorter, I go the distance. Maybe life gets in the way sometimes, but I adjust and get back on the plan. It's important to have that discipline during every workout because that's what gets you to the finish line of every race. If I get in the habit of stopping at mile seven of a ten-mile run because seven is "good enough," what do you think I'll do at mile 70 of a 100? Do I want to sit there and say, "Well, 70 is good enough?" No. I want to stand up and say, "Ok, only 30 more miles to go."
What is the most difficult race you've participated in, and what is your favorite race? 
The most difficult by far was the 2019 Vermont 100. The temperatures were in the upper 90s and with the humidity, the heat index was over 105 degrees. I can tell you it was the only race in my life where I considered quitting. Luckily, my crew saw things differently than my partner and I. At 70 miles in, they convinced us to go just six more miles knowing that if we got that far, we'd go all the way. The finisher rate was less than 50% but we were two of the few to cross the line and get a 100 mile buckle. After that race, I knew there was nothing I couldn't do.
My favorite run is much harder to pick. Most people will expect me to say something like Boston, New York, or the race where I ran my personal best. While those are all very special, they're not my favorite.  My favorite races are the ones where I get to run with someone else and help them reach their goal and fulfill their dream. Sometimes I run with a friend, sometimes I run as an official pacer, and sometimes I just meet someone along the way and run with them to the finish. When someone comes to you at the finish with tears in their eyes and says, "Thank you so much! I can't believe I did it! It hurt so bad. I was ready to walk but you kept me going. Thank you!" It's an amazing, rewarding, and humbling experience. I'll take that over a PR any day.
What are you most excited about at this time in your life, and what is next for you? What's on your bucket list?
Oh my gosh, there's so much! I'm very excited about the way the nonalcoholic products and community are growing. One of my favorite things is to go into a restaurant, bar, or store, strike up a conversation about the NA products they offer, and then guide them down the path to offer more. It's the best feeling to look at a bar menu, see that they added a Zero Proof section, and it has beer you recommended and cocktails using spirits that you brought in for them to taste. To be able to look at the menu and say, "I did that" is an amazing feeling. I love it and I'm going to keep doing it.
I'm approaching the age where I could retire.  Not too long ago I was worried I'd be bored if I didn't have to go to work. Now I'm excited and on the lookout for new adventures.
As for a bucket list, I've never really had one. For the most part, when I decide I want to do something, I just do it.  I do have some running goals though. I'd like to complete all of the World Marathon Majors. That means running Boston, New York City, Chicago, Berlin, London, and Tokyo.  I already have the US ones done, as well as Berlin, so I will only have London and Tokyo to finish.  I'd also like to run a marathon in all 50 states. I've got 17 states completed so I'm on my way.  Beyond that, I'd really like to run the World Marathon Challenge. That's 7 marathons on 7 continents in 7 days. It's got a hefty price tag so it will probably be on my bucket list for a long time unless I can figure out a way to get sponsorship or donations to defray the cost. If anyone has any ideas, I'm ready to talk.