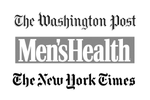 We always felt that this category was going to go somewhere – there were just too many people who weren't drinking for whatever reason that were being massively underserved by big alcohol – but we think it's starting to get a little momentum. In the past six months, there have been a spate of stories about the category and about our little endeavor. Here are some of the highlights!

Washington Post
THE SEARCH FOR A NON-ALCOHOLIC BEER THAT'S ACTUALLY WORTH DRINKING
"When I got sober at 24, my biggest fear was that I'm never going to have fun again," Stevens told me in a phone call. Stevens started drinking nonalcoholic beer early in his sobriety, mainly as a way to fit in at work functions. "Everyone orders an alcoholic drink and you order a Diet Coke, and there's this moment where everyone looks at you and wonders, 'Is it okay for me to drink in front of this person?' Ultimately, I hope we can give people in these kinds of social situations a choice that they're excited about drinking, and that signals to everyone [that they are] there to fully participate in the night."
Stevens, who founded WellBeing in St. Louis in 2016, uses the vacuum boil method to make his Heavenly Body Golden Wheat and Hellraiser Dark Amber, available in limited retail locations and by mail order.
The WellBeing Heavenly Body Golden Wheat arrived first, and it immediately became my favorite NA beer, by far the best I'd ever had."

The New York Times
GERMAN OLYMPIANS DRINK A LOT OF (NONALCOHOLIC) BEER, AND WIN A LOT OF GOLD MEDALS
While most people see nonalcoholic beer as a responsible replacement for regular beer, Germans often drink it in place of sports drinks after exercise. Beer or Gatorade? No contest.
The Team conducted a double-blind study, financed by a brewing company, in which he gave runners in the 2009 Munich Marathon nonalcoholic NA beer every day for three weeks before and two weeks after the race. These runners suffered significantly less inflammation and fewer upper respiratory infections after the race than runners who had been given a placebo.

The Riverfront Times
JEFF STEVENS' WELLBEING BREWING IS BREWING CRAFT BEER WITHOUT THE ABV
"The thing about not drinking is that you are worried you are killing somebody's buzz and feel bad," he says. "But then they feel bad because they are worried they shouldn't be drinking in front of you. Hellraiser says, 'Hey, I'm not drinking, but I am still ready to party. We can go pool-hopping or whatever. I'm ready to blow off some steam, and if you want to get silly, I am here to get silly. I can just drive you home.'"

From Men's Health
THE RISE OF BOOZE-FREE BEER YOU'LL ACTUALLY WANT TO DRINK
"The world drinks a lot of beer. Like, 185-billion-liters a lot (which was the worldwide consumption stat for 2016). But the way we booze is changing. In the past year, beer consumption fell by 3.2 percent per adult, according to research institute IWSR—thanks to education on the health concerns of drinking, tighter DUI law enforcement, and people just plain choosing to spend their time on stuff other than happy hour and morning after.
Enter non-alcoholic craft beers, a surprisingly attractive option for people choosing to forego booze. Here us out, okay? According to a report published by Research and Research, the global non-alcoholic beer market is expected to provide sustainable growth opportunities during the forecast period from 2017 to 2025. That's right, the next big thing in beer is booze-free.
"Consumer trends are showing that people want to pursue a more healthy lifestyle, and this is a great solution for people who think, 'I should drink less alcohol but I like the taste the beer," says Jeff Stevens, Founder of…Wellbeing Brewing Company in St. Louis, Missouri and is a dedicated non-alcoholic brewery.
"If you're drinking, you have an infinite amount of things you can drink," Stevens says. Shelves are full of craft IPAs, stouts and bitters. "Whereas only about half the bars I've been to have a non-alcoholic beer. And if they do, it's usually just one choice."
Usually, it didn't taste very good, which was especially disappointing for Stevens — a beer buff who did marketing for booze companies. "There's this craft beer explosion happening all over the U.S., but no one is making non-alcoholic versions," Stevens says.
THE BEGINNING OF A MOVEMENT
Stevens is a bit ahead of the curve in the U.S. — where most non-alcoholic beer on offer is the same limp, tinny stuff that first came out in the '80s, their only real selling point being the fact that they had less than 0.5 percent alcohol by volume. But alcohol-free beers are catching on in the UK, Europe and Canada, and specialty brewers and big brands alike are using new techniques to create new varieties of flavorsome booze-free brews."