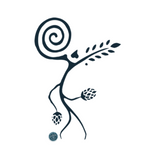 Everything on our new Intentional IPA label was…intentional.
When we brewed this Intentional IPA to facilitate setting good intentions for the new year, we felt we needed to do more than simply make an amazing Non Alcoholic Hoppy and Citrus IPA.
We wanted the label to be a guide. So we dug deep, consulted science and our own backgrounds, and came up with this:
Design by ArtFarm STL
1) We included The Third Eye – This symbol is a gentle reminder of being mindful. The first part of finding what your good intentions are. Hello Ajna Chakra!
2) Our NA Swoosh features prominently on all our beers. It is an ancient Celtic rune that means "connect the Mind, Body, Spirit" for good living. We believe our beer can make that connection:
For the Mind– Alcohol impairs your thinking. Our beer helps you be your best self.
For the Body – As we are all rapidly learning, Non Alcoholic Craft beer is functionally healthy for you. It's full     of anti-oxidants that tremendously boost your body's power to heal after a workout and suppress colds. It's low calorie, all natural, no sugar, no caffeine, vegan and frankly whups up on Gatorade nine ways to Sunday.
For the Spirit – Beer is the ultimate social drink. It's what you toast with and what you bond over and it's been around for 1000 years. It raises your spirits. It connects you to humanity.
3) The Mad Hops Dancer. Who doesn't like to dance? It raises wellbeing!

4) The Open Heart. A reminder to approach 2020 and beyond with a heart full of Love.
5) This Class – 'The Real Science behind Wellbeing.' Summed up on the Label. "Intentionally brewed to savor the moment, acknowledge the things that bring us gratitude and inspire kindness to #raisewellbeing.
So have a taste, set some good intentions, and let's raise a little wellbeing together.
Enjoy!