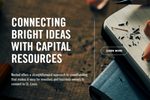 We love the fact that the Green Bay Packers are owned by the fans of the Green Bay Packers. It's the ultimate engaged consumer base! So when a new equity crowdfunding portal came to us and said we could officially sell equity to folks who drink our NA craft beer, we decided to give it a shot. It's new, it's different, but then again, so are we. If every brands' mantra is something like "keep the customer close", this is the perfect way to do it.
WellBeing Brewing was proud to be the first St. Louis based company to be invited onto the NVSTED crowdfunding platform. With local and national support we hit our funding goals (actually exceeded them) in record time. With WellBeing as one of the very first Non-Alcoholic Craft Breweries in the country, so many investors came together to help support of NA revolution.
Here's of NVSTED page: https://nvstedwithus.com/companies/wellbeingbrewing
Thanks to the team at NVSTED and even bigger thanks to all our valued investors!