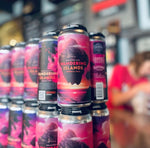 We knew this beer was delicious the moment we tasted it off the line, and we weren't alone!
WellBeing's Wandering Island Tropical Pale Ale won a gold medal in the Non-Alcoholic Fruit & Spices category at the U.S. Open Beer Championships this year!
We made this beer to make a difference for Restaurant and Bar workers. 
Wandering Islands is a partnership with Giving Kitchen (GK), a James Beard Humanitarian of the Year recipient. GK has supported over 9000 bar/restaurant and food service workers and awarded nearly $6 million in direct financial aid to folks in crisis. By sharing this brew, you will help to provide food service workers with access to financial assistance, as well as mental and physical health resources.
Each can has a QR code the links to Giving Kitchen and the many resources they offer. They've asked us to help spread the word about those services and so we put them on our can!  
If you own, manage or work at a restaurant or bar, this is the beer to serve!