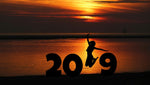 This Dry January thing, where did it come from and why are we seeing it all of the sudden?

It's a pretty recent phenomenon actually.

It was an idea baked up and as it turns out, brought back, by the government of the UK in 2014 when they realized everybody was drinking too much and they were spending too much money in health care costs. After careful consideration, it was deemed that the best time to catch people in the mood to cut down a little is the month of January.

Let's face it, in addition to alcohol, the end of the year is pretty intense on several fronts.

There are the Holidays of course.

Alcohol-drinking occasions are everywhere. Not to mention the entire alcohol industry that spends well over half it's annual budget from Halloween to New Years.

Add to that the holiday food and the sugar and the cheese balls and everywhere you turn it's just so easy to eat and drink your way through the whole festive season.

Then there's the social/family obligations – most of us get together and hang out with family and friends and regardless of how well we get along, at the very least there is serious planning of gifts and activities, meals, and travel to figure out.

Oh and do you work? You have to close those books, get in the last invoices, finish overdue employee reviews. Whether you're shutting down for a few days or speeding up for the holidays, it's an endless series of checklists to hurriedly finish under a year end deadline.

And now, finally, it's January. We can breathe again. While it's supposedly the bleakest of months, it actually comes in Peace. It's here and it's chill and it's time to eat and drink a little less, work out a little more, and take care a little deeper.

It's the perfect month to reflect and reset – from alcohol or anything else we've over indulged in. And Dry January offers us the opportunity to just that. And some of the health benefits of Dry January – better sleep, lost weight, more energy, better concentration – may have lasting results.

Which is why Dry January has now taken off in the US. If you're curious and looking for other travelers on the 30 days alcohol-free journey, join our WellBeing Dry January Facebook group here.

And as we head in to the new year, lets raise a glass of our delicious NA craft beer and simply say, January, here's to your WellBeing.